IFCN Strategic Plan 2018–2022
Mission: To promote best practices in clinical neurophysiology through education and research throughout the world.
Vision: To improve healthcare by understanding the nervous system and optimizing the diagnosis and treatment of its disorders through clinical neurophysiology.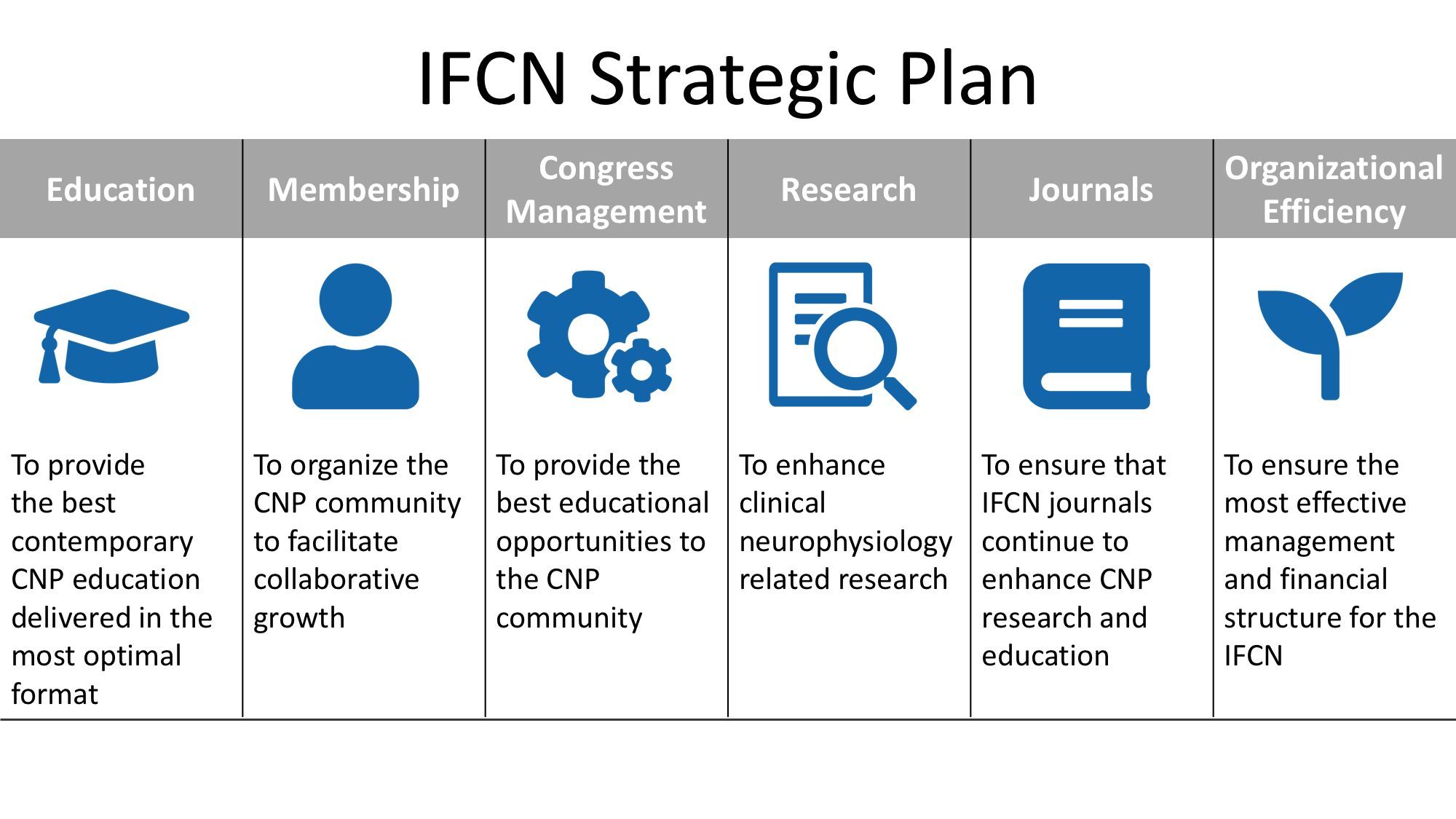 How Clinical Neurophysiology Practice (CNP) Is Defined
CNP is a medical specialty, or sub-specialty, concerned with the function and dysfunction of the nervous system, caused by disorders of brain, spinal cord, peripheral nerve and muscle, using physiological and imaging techniques to measure nervous system activity. When interpreted in relation to the clinical presentation of patients, data from these techniques can either diagnose, or assist in the diagnosis of, neurological conditions and quantify, monitor and follow progression of such conditions. CNP also encompasses physiological methods for therapy of neurological and psychiatric disorders.
IFCN Strategic Goals
Read the full Strategic Plan document.
Education
Goal: To provide the best contemporary CNP education delivered in the most optimal format
Objectives:
Plan ICCN
Provide online CNP education
Provide funding for fellowships to attend Congresses
Develop international CNP training curriculum
Publicize current educational programs (Visiting Professor, others)
Membership
Goal: To organize the CNP community to facilitate collaborative growth
Objectives:
Encourage formation of national CNP societies and membership in IFCN
Organize and revitalize Special Interest Groups (SIGs)
Investigate value of individual memberships
Congress Management
Goal: To provide the best educational opportunities to the CNP community
Objectives:
Explore implications of ICCN being managed by IFCN
Explore proper frequency of ICCN
Explore possibility of regional or SIG-related Congresses/workshops
Journals
Goal: To ensure that IFCN journals continue to enhance CNP research and education
Objectives:
Continue to enhance CLINPH as premier CNP journal
Increase review and research paper submissions to CN Practice
Explore value of additional journals, publications
Research
Goal: To enhance clinical neurophysiology related research
Objectives:
Continue to provide research scholarships
Explore possibility of shorter term scholarships
Improve publicity of scholarship programs
Organizational Efficiency
Goal: To ensure the most effective management and financial structure for the IFCN
Objectives:
Ensure financial stability of IFCN
Explore optimal association management structure
Explore value of professional congress organization as part of AMC
Enhance social media presence and electronic communications
Consider other value-added features of membership
Enhance communications with chapters and member societies